10K E-Governance Kiosks to be opened soon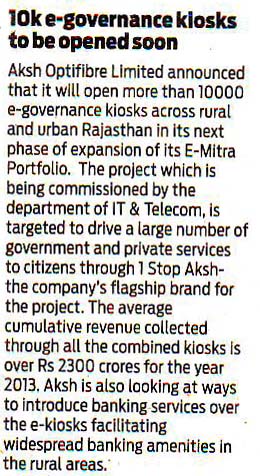 Aksh Optifibre Limited announced that it will open more than 10000 e-governance kiosks across rural and urban Rajasthan in its next phase of expansion of its E-mitra Portfolio.
The project which is being commissioned by the department of IT and Telecom, is targeted to drive a large number of government and private services to citizens through 1 Stop Aksh the company's flagship brand for the project. The average cumulative revenue collected through all the combined kiosks is over Rs 2300 crores for the year 2013. Aksh is also looking at ways to introduce banking services over the e-kiosks facilitating widespread banking amenities in the rural areas.